The Euro continues rising against the US Dollar but we note multiple red lights on the charts wich suggest the move is overextended.
Although the Euro-to-Dollar exchange rate is looking decidedly overextended there's an old saying in financial markets that "the trend is your friend until the bend at the end," and nowhere does that seem more apt than is the case with this pair.
EUR/USD has appreciated significantly since the 1.0432 lows of January 2017 and is now trading at 1.2456 just over a year later, which whilst not bad going, our studies of some key technical indicators do warn of an overextension.
Indeed, there are a number of signs which should inject a does of caution into even the most exhuberant of bulls: the most concerning of these is on the monthly chart below which shows the exchange rate interacting with the 200-month moving average (MA).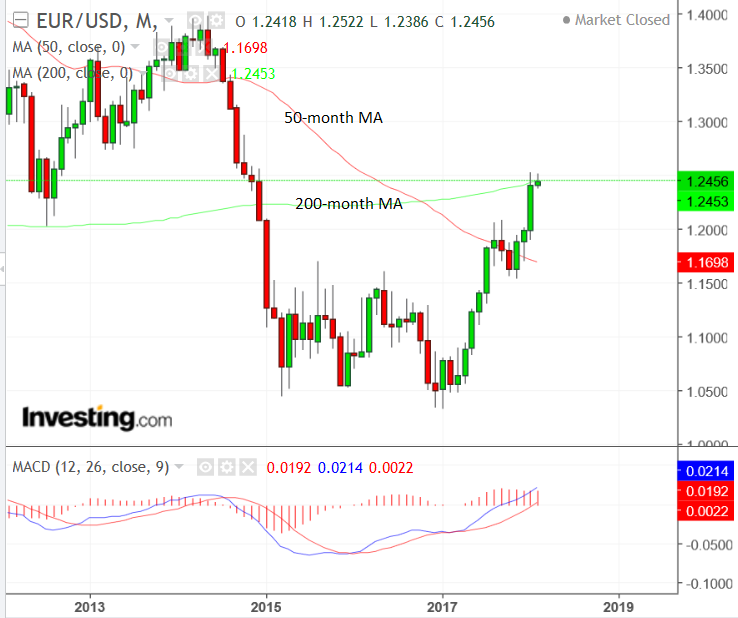 Large moving averages such as the 200-month MA are a major impediment to further gains as they act as dynamic levels of support and resistance where prices often stall, pull-back or completely reverse – and you can't get much bigger than the 200-month, thus some caution is in order.
The weekly chart is showing a compelling continuation configuration but sadly the ADX indicator, which measures how strongly an asset is trending, is now above its sweet-spot of between 20-30, for indicating a high probability of the configuration leading to a successful continuation higher.
Added to this, the daily chart is showing ADX at over 50, which is an overbought signal – so all in all there is growing evidence the uptrend may be compromised.
Yet despite all this, one important component is missing from ticking all the boxes of a bearish reversal, and that is actual weakness in price action itself.
The exchange rate keeps on rising despite all the evidence to the contrary and so we continue to forecast higher prices : the trend is indeed your friend as they say – and it remains 'up'.
In fact, the exchange rate ignored the shooting star candlestick posted at the January 25 highs and did not weaken as would normally be expected, which is a bullish sign, if anything.
The pair has gone sideways instead and there is now a risk that EUR/USD could break to new highs, and a move above the 1.2537, confirming a continuation up to 1.2600.